My original Red Delicious (pattern by Esther Aliu) was so fun that I am now working the pattern with a blue/aqua/mettalic theme.
Here is my original Red Delicious.
I love that each square of this pattern is different. There is zero change of boredom making the same motif repeatedly! This is all made with stash fabric, which is fresh in my mind now that we have (mostly!) unpacked from our move.
Peacock Moda Grunge/Metallic was in abundance in the stash, and as Moda Grunge makes a wonderful background for appliqué, I soon settled on it for the background. It is a medium tone, making it challenging to find good contrast for the appliqués I will be making. I am using Sulky Sticky Tearaway to stabilize my appliqués.
The center square is the last to make on the pattern, but it's the most work so I decided to make it first. The cherry basket was inspired by the Lily Rose vase I have made several times in the past. I like the cutaway look and replicated it here in the basket, with a light background.
The "tablecloth" is from a fat quarter of very pale yellow Moda Grunge. It looked rather plain and I decorated it with a leafy deco stitch.
33 cherries to cut, place and stitch. I did better than two years ago, when I had to cut extra cherries to hide my gaps in the pattern. Apparently, my skills have improved and I filled the bowl with the 33 cherries (lol), using light, medium and dark color gradations.
My first selection for the bow was a medium toned blue and while it looked good close up, you could barely see the bow from a distance of more than a foot. Yikes! Ripping out tiny appliqué stitching is a bit nerve wracking, but with the cherries already stitched down, a necessary task.
The handle is double appliqué stitched with a layer of blue in small blanket stitch and an overlay of metallic in a large blanket stitch.
I am using Superior Threads Metallics #025 Variegated Gold Mini Cone for much of the appliqué work and embellishments. It is a lively blend of gold, teal, rose and silver, and a size 12 Top Stitch needle.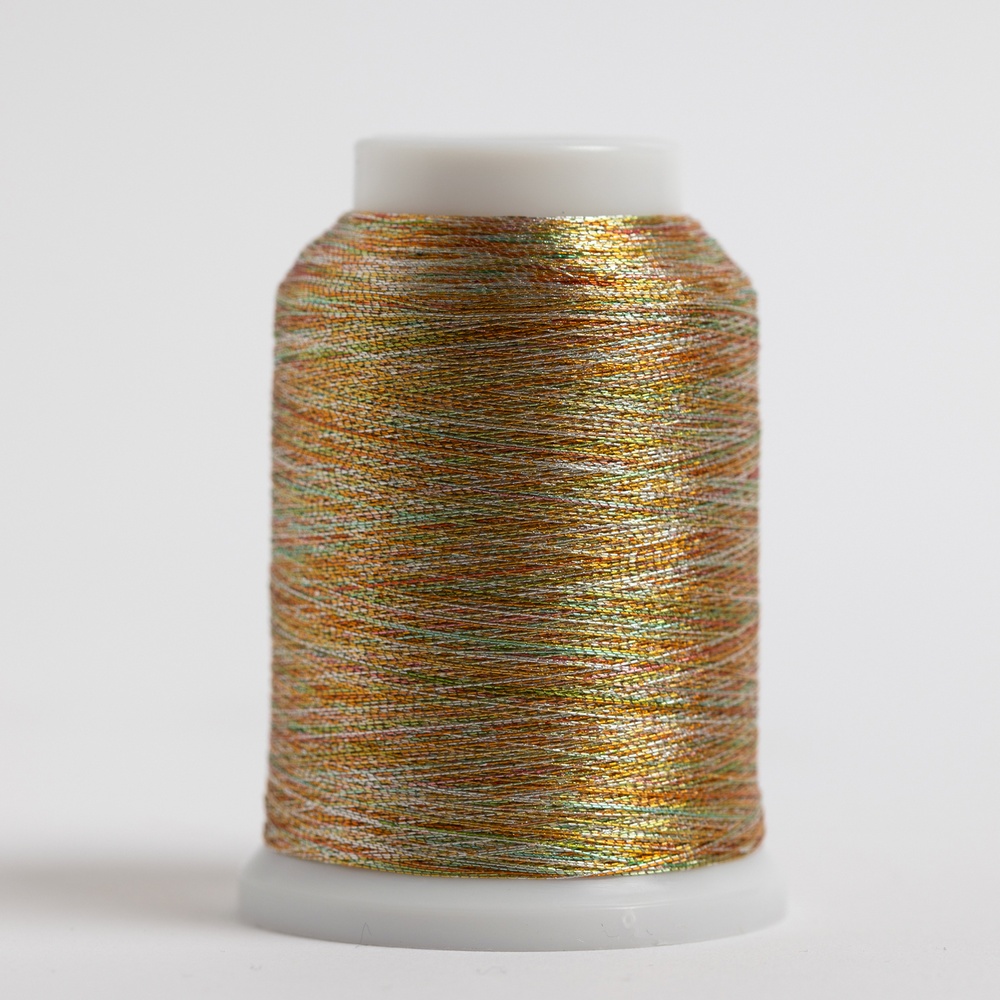 The next block that called out to me was the vase with flowers. This is a block with the opportunity to show off some fabric! I had a chunk of wonderful fabric left from a quilt made 4 or 5 years ago and used it for the vase, which I made with a turned edge. I had planned to cut fabric to assemble the blooms, as the directions instruct, but the large, lush blooms in one of my pulled fabrics called to me. The size and shape were perfect for these blooms, and I fussy cut them. Now the issue of stems loomed, either very light or very dark. I went with the super dark blue Jason Yenter fabric used in the dark cherries. I decided to do turned edge stems for a super smooth finish. The block was looking good, but I felt it needed more balance, so I fussy cut two butterflies from the same fabric as the blooms.
The vase has nice curves and I echoed those curves with a 40 wt high gloss light gold thread, using a hand stitch (#6 on Bernina) deco stitch. The flowers are raw edge stitched with a tiny blanket stitch, as are the butterflies.
I am enjoying being back at my sewing so very much; it is truly my "happy place".
Happy quilting!
Lennea