One of the most challenging tasks when doing FMQ is keep your quilt on the table. It's a terrible feeling to be FMQ along and then feel the yank of the quilt falling off the edge of your table and causing your quilting to warp, wobble and jump.
How do we keep our quilts secure? We can add tables and extensions, and set up ironing boards next to the machine to avoid the dreaded yank. Quilts are rolled and folded, smooshed and scrunched to avoid this frustrating occurrence and spare our FMQ. But at some point, we realize that a better solution is needed.
Quilts are heavy! All the fabric and batting can add up when doing a large quilt and we must maneuver all this bulk and weight on our tables and through the FMQ process. Every quilter knows the ache in her shoulders after a long quilting session.
Suspension systems are the answer! No more thunks, yanks, thuds (or cursing) as your queen or king size quilt spills over the edge and ruins your stitching.
Two companies make a good suspension system.
The first is a stationary system called the Weightless Quilter. This one stands on the floor and suspends your quilt above your sewing area. I have not tried this one, but it looks more suitable for lap/baby size quilts and is made to work well with domestic machines. This can be ordered from on line sewing equipment shops and you can easily find it demonstrated on YouTube.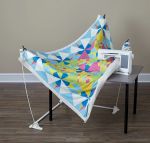 The second is the Patsy Thompson Suspension System. Patsy is a fabulous FMQ designer and she has developed two models, one for domestic machines and one for sit down quilters like Tiara, HQ16, Bernina and Juki.
There are also some very good DIY systems that inventive quilters have dreamed up. My hubby surprised me a couple years ago at Christmas with this DIY system, made from dog grooming arms ordered off Amazon and using bungie cords and clamps from the hardware store.
A quick goggle will show you the inventive ways in which quilters seek to suspend their quilts.I have also seen systems made from PVC pipes, hooks screwed into a ceiling beam, wardrobe components and wood.
Here is the file that I prepared for my Fun With Free Motion Quilting group on FB to help you find the best system for your quilting needs, costs and where to obtain the systems or components.
I highly recommend a suspension system for quilting Twin through King size projects. A suspension system will reduce the worry, hassle, physical stress and *fear* of tackling FMQ for a large quilting project.
Happy quilting!
Lennea